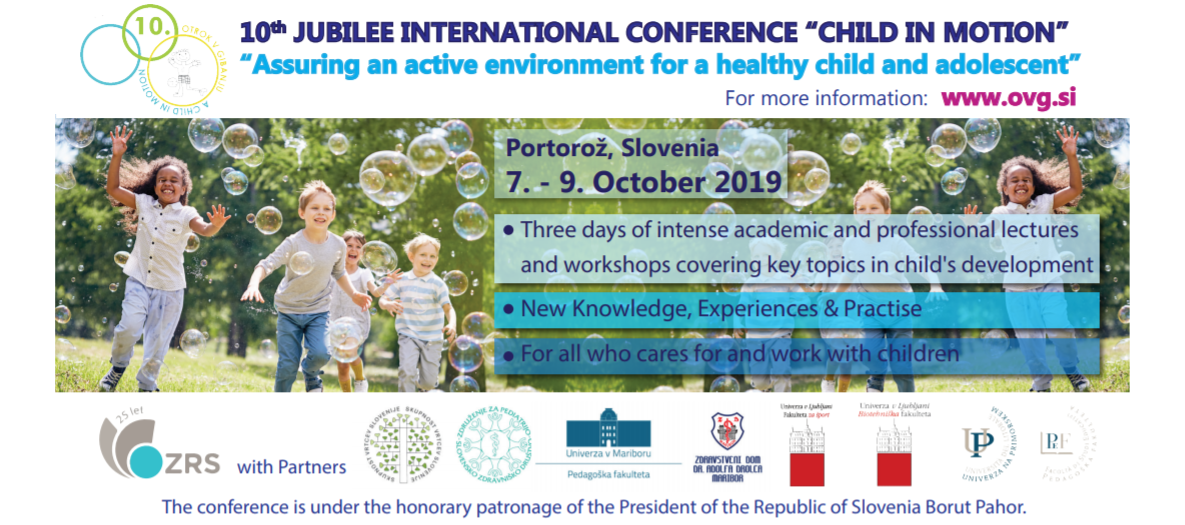 7. October 2019. - 08:00
Portorož, Slovenia
Science and Research Centre Koper, INSTITUTE FOR KINESIOLOGY RESEARCH in cooperation with its partners
invites you to the 10th JUBILEE INTERNATIONAL SCIENTIFIC AND PROFESSIONAL CONFERENCE "CHILD IN MOTION"
»ASSURING AN ACTIVE ENVIRONMENT FOR A HEALTHY CHILD AND ADOLESCENT"
7th to 9th October 2019
Grand Hotel Bernardin, Portorož, Slovenia
Dear Colleagues!
It is our great pleasure to inform you that the Science and Research Centre Koper, Institute for Kinesiology Research is organizing the 10th International Scientific and Professional conference »A Child in Motion«, with the working title »Assuring active environments for a healthy child". Children face inadequate incentives to achieve sufficient physical activity which does not merely cause inconsistent child development and health decline, but it also poses a threat to the child's physical and cognitive competences, creativity, and besides, emotional and social maturation. Today's lifestyles, shaped by economic and prestige-driven societies that are offered to children and adolescents certainly do not encourage physical activity. Therefore, society is obliged to fulfil the desire to the variety of choices that are needed by children and adolescents. Such problems, but predominantly physical inactivity, are representative challenges the conferences hopes to deal with appropriately.
The conference will consist of different thematic sections:
•       THE MOTOR COMPETENCES IN THE INTEGRATED DEVELOPMENT OF CHILDREN
•       BIOMECHANICAL, PHYSIOLOGYCAL, AND HEALTH ASPECTS OF MOTOR DEVELOPMENT OF CHILDREN
•       PSYCHOLOGICAL, SOCIAL, AND EDUCATIONAL ASPECTS OF MOTOR DEVELOPMENT OF CHILDREN
•       BALANCED DIET AND INTEGRATED DEVELOPMENT OF CHILDREN
•       PHYSICAL ENVIRONMENT AS AN INCENTIVE FOR MOTOR DEVELOPMENT OF CHILDREN
•      PHISICAL ACTIVITY FOR CHILDREN – OPEN TOPICS
Also this year, a workshops section will be held within the framework of the Conference in order to transfer good practices into everyday work.
The Conference will be held in Grand Hotel Bernardin, Portorož,
Slovenia from 7th October to 9th October 2019.
Important dates:
•     Till 10th June 2019: abstract submission
•     Till 1th July 2019: confirmation of abstract acceptance
•     Till 1stAugust 2019: fee payment for participants with papers
•     Till 15th September 2019: fee payment for participants without papers
•     7th October 2019: beginning of the Conference
More detailed information about the Conference are available on the Conference Website ovg.si
For any questions and further details please do not hesitate to contact us by e-mail: ovg@zrs-kp.si
We would be grateful if you could disseminate the news about the Conference to your colleagues.
With best regards
Assist. prof. Tadeja Volmut, PhD
The President of Organizing Committee
prof. Rado Pišot, PhD
The President of the Scientific Committee
EVENT INFO :
Start Date:

7. October 2019.

Start Time:

08:00

End Date:

9. October 2019.

End Time:

20:00

Location:

Portorož, Slovenia

Website:

https://ovg.si/?lang=en